This article may contain affiliate links and if you make a purchase after clicking on a link, we may earn a small commission at no additional cost to you.
Sourdough bread is one of the healthiest loaves of bread you can find. It contains a higher level of folates and certain anti-oxidants than most loaves of bread.
Some people prefer eating it with accompaniments even though you can eat it alone. Sourdough bread is very easy to prepare, and it is mainly eaten during the winter season. Now, if you've desired to know what to eat with sourdough bread, this article is for you.
Side dishes like the soup, sandwiches, avocado toast, and bruschetta are on top of the side dishes you can eat with sourdough bread.
Stick with me as I let you in on fantastic side dishes that you will enjoy with your sourdough bread!
What to Eat with Sourdough Bread
Below are the most suitable side dishes that go with sourdough bread:
1. Soup
Your sourdough bread hits the right spot after dipping it in a bowl of soup and letting it in your mouth. Most people prefer eating their sourdough with soup inside their bread by making a bread bowl.
To make a bread bowl, all you need to do is get a paring knife, cut straight down inside the edge of your bread, and then take out the part cut out, and it would look just like a bread bowl.
After you must have made your bowl, you can now add your soup in the middle and eat it after closing it up with a lighter piece of bread.
2. Sandwiches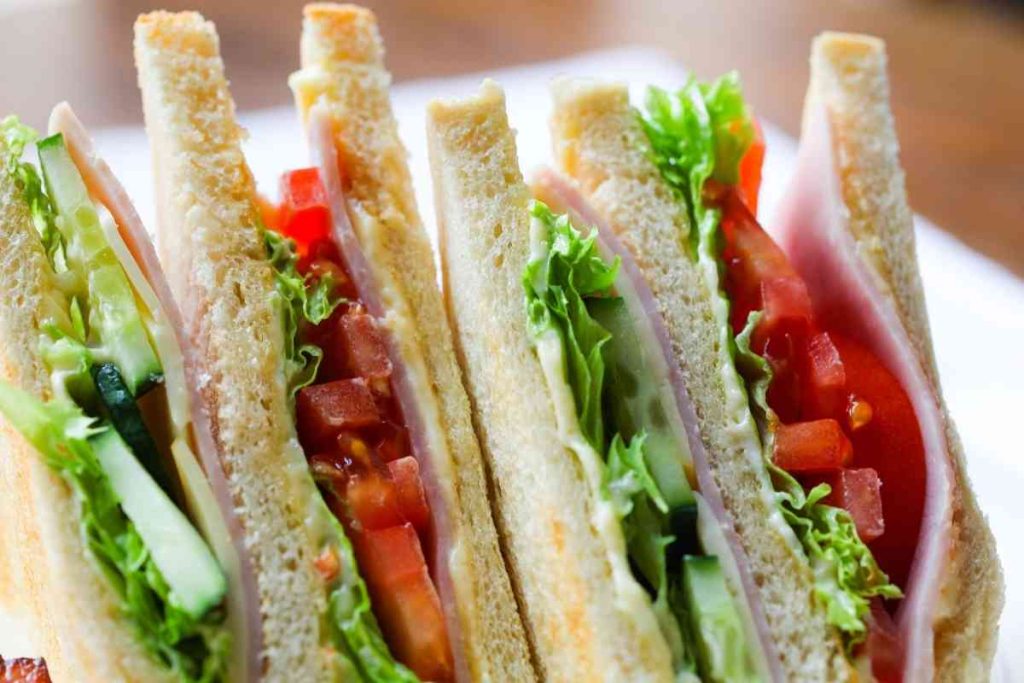 Your sourdough bread can go great with other food to make a nice sandwich. Some great sandwiches you can try out include:
Smoked salmon salad sandwich, with salmons as the primary ingredients.
Avocado and tomatoes sandwich using your avocado and tomatoes as significant ingredients.
Roasted pork and pickled cucumber sandwich with your pork, cucumbers, and pickles.
Tomato, mayo, and garlic sandwich, which is perfect for vegetarians.
French ham and cheese sandwich and even lots more…
3. Avocado Toast
You want a tasty and healthy side dish, and then you should try out this option. You need your bread (sliced) and your avocados, and you are good to go.
To get this recipe ready, all you need to do is mash up your avocados into a paste. You can get this done by either using a fork or a pile.
After you must have mashed your avocados, you can now add a little seasoning to it like the salt, pepper, and lime juice for extra taste and juiciness, but this is not necessary; it is your choice.
4. Bruschetta
Bruschetta is a delicious side dish that is made with tomatoes and basil. You are expected to chop your fresh tomatoes and mix them with garlic, basil, vinegar, and olive oil, then you can serve it on your slices of sourdough bread, preferably toasted.
Bruschetta is a classic Italian diet that tastes extremely good even though you can make it in a few minutes. It is unnecessary to eat out or order food from stores when you can make it comfortably from your homes with high-quality ingredients.
What Can I Put on Top of Sourdough Bread?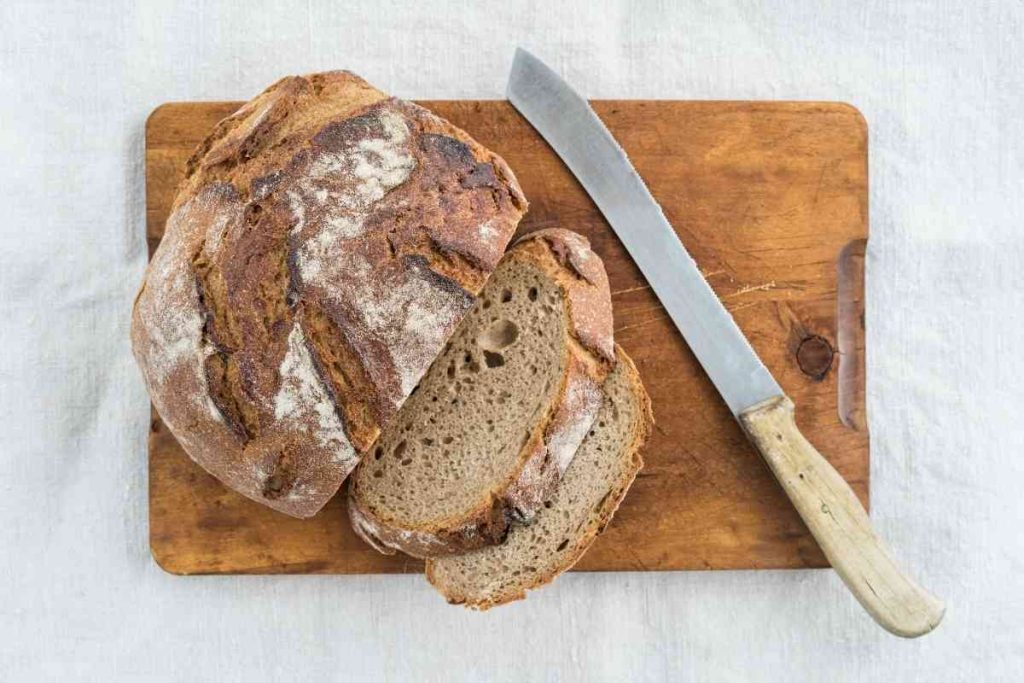 Some unique toppings ideas for sourdough bread include:
5. Butter
Butter is one of the very common toppings for bread. You can enjoy your butter on your bread when it is just fresh out of the oven or when it is cold, you can enjoy it both ways, and if you want to add a sea touch, you can sprinkle a bit of salt on it, and I bet, you will not be sorry.
6. Jam or Jelly
Jelly and jam are perfect toppings for your bread. You should spread it on the sourdough bread just as butter is spread. The best part is that you can always make your jelly or jam at home with your berry or plum to make a delicious jam paste.
7. Basil, Tomatoes, and Mozzarellas
If you are a fan of Caprese, you will love topping your dish with basil, mozzarella, and tomatoes. You can add some salt and olive oil to give your container a classic touch.
If your basils and tomatoes are plucked fresh from the garden, rest assured that you would have a very refreshing mix.
8. Avocado
Avocado toast is one of the significant toasts used in these times. A great part of this recipe is that you are not only subjected to one method of making your toasts, you can be creative and add some chilli flakes, and if you want a smoky flare, you can add honey.
9. Mushroom and Caramel Onions
If you crave warm and savoury topping, adding mushrooms and caramelized onions is the best to consider.
To make this duo a special topping, all you need to do is brown your mushrooms in a pan. After it is brown, remove it and add your sliced onions to the pan.
To caramelize your onions, add one or two teaspoons of sugar and two teaspoons of water and then leave in the pan for five more minutes. After that, you can add your mushrooms, and you are done.
Other unique toppings that you should try out include
Eggs
Hummus
Peanut butter
Greek sourdough bread topping
Garlic and shiitake mushrooms
Nut butter, bananas, and blueberries
Lox
Chorizo
Fig and ricotta
And lots more…
Frequently Asked Questions
How Long Does Sourdough Bread Last?
If stored at room temperature and adequately covered, sourdough bread should last for about four to five days. It would be best if you do not keep your sourdough bread in the fridge, as it will get stale a lot faster and become dry, so the best way to store your sourdough bread is at room temperature.
What Cheeses Go Well with Sourdough Bread?
Five good slices of cheese that can go well with the sourdough bread include the white cheddar cheese, gruyere, Monterey Jack, brie, and the Manchego. There are other good cheeses that could work, but these are the top five for me.
Is Sourdough Bread Good for Sandwiches?
Sourdough bread is perfect for sandwiches as it has a variety of side dishes and toppings that can go very well with it.
Is It Okay to Eat Sourdough Bread Every day?
Sourdough bread is essential in our daily feeding as it contains many healthy nutrients and minerals that our body needs daily. Sourdough bread has a moderate amount of iron, manganese, calcium, B1-B6, B12, folate, phosphorus, vitamin E, and other nutrients.
Is Sourdough Bread Better Than Normal Bread?
Sourdough bread is indeed a healthier substitute for any other whole or white bread. Although these two do not have much difference, the lower phytate level in sourdough bread makes it altogether more digestible and nutritious.