This article may contain affiliate links and if you make a purchase after clicking on a link, we may earn a small commission at no additional cost to you.
Yellow curry paste is insanely versatile and flexible; you can use it in a variety of meat, vegetable, seafood, noodle, soup recipes, etc.
This sweet-scented yellow curry paste makes Thai food so easy to cook and quick to prepare, especially if you prepare the paste prior to your cooking.
But what if you suddenly discover that you've run out of this paste while cooking, or you just feel like trying something else? Well, the good thing is that there are a few yellow curry paste substitutes that you can use instead.
Some of the best substitutes for yellow curry paste are curry powder, red curry paste, green curry paste, and you can also make your own homemade Thai yellow curry paste.
Use it right away in a delicious Thai curry or store it in the refrigerator or freezer to use anytime.
What is Yellow Curry Paste?
Yellow curry paste is one of the three Thai curry pastes, which include yellow, red, and green – and it's also the mildest among the three Thai curry pastes.
Yellow curry paste is formulated with yellow chilies, fish sauce, galangal, lemongrass, and spices, such as turmeric.
Curry pastes are used in Thai cuisine as an ingredient in soups, stews, and entrees. The paste is a combination of dried peppers and spices that are well-grounded together – and the spices used always determine the final flavor and color of the curry paste.
Best Yellow Curry Substitutes
1. Curry powder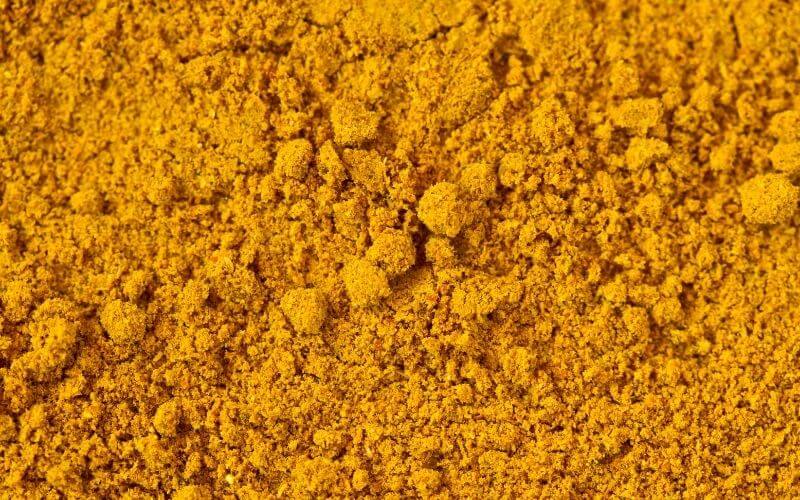 Curry powder can be used as a substitute for yellow curry paste. While you will get a different flavor profile, a few teaspoons of curry powder will usually do the trick if you don't have yellow curry paste while cooking.
Generally, you should use 1 teaspoon of curry powder in place of 1 tablespoon of yellow curry paste.
2. Thai red curry paste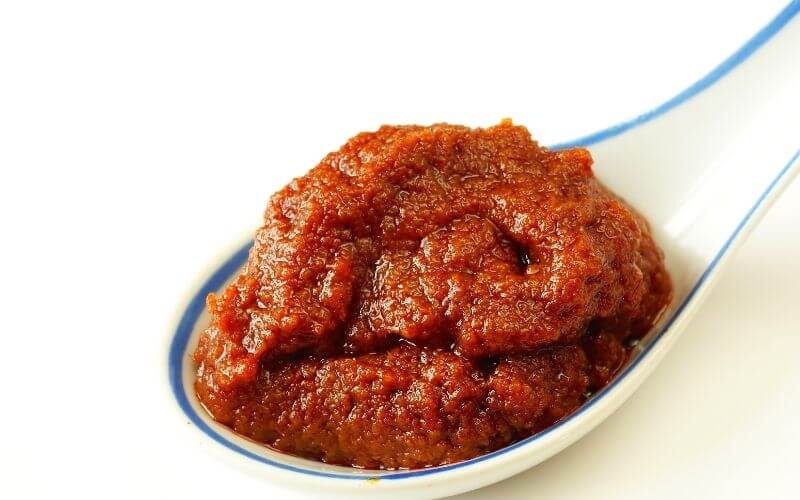 Thai red curry paste is another excellent substitute for yellow curry paste. Common ingredients on the Thai red curry paste include red chili peppers, shrimp paste, lemongrass, garlic, kaffir lime leaf, and galangal.
If you've ever prepared Thai yellow curry paste at home, then you may be familiar with these ingredients for red curry. Both recipes use almost the same ingredients.
It's worth mentioning that red curry paste is often hotter and chillier than yellow curry paste, so you want to have that in mind while adding it to your cuisine. Although, there are milder versions of Thai red curry paste in the market.
3. Shrimp paste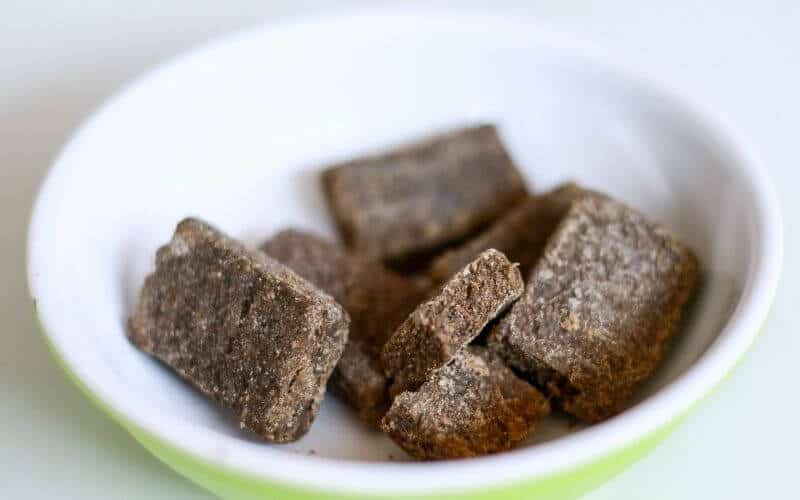 Also known as belacan, shrimp paste is a well-grounded shrimp or krill that is mixed with salt and then fermented. Asian grocers sell it as a staple item, and you can always buy it from supermarkets too.
You can also use shrimp paste as a valuable alternative to yellow curry paste. Blend it with garlic, kaffir lime leaf, and lemongrass to get a more authentic feel you.
4. Thai green curry paste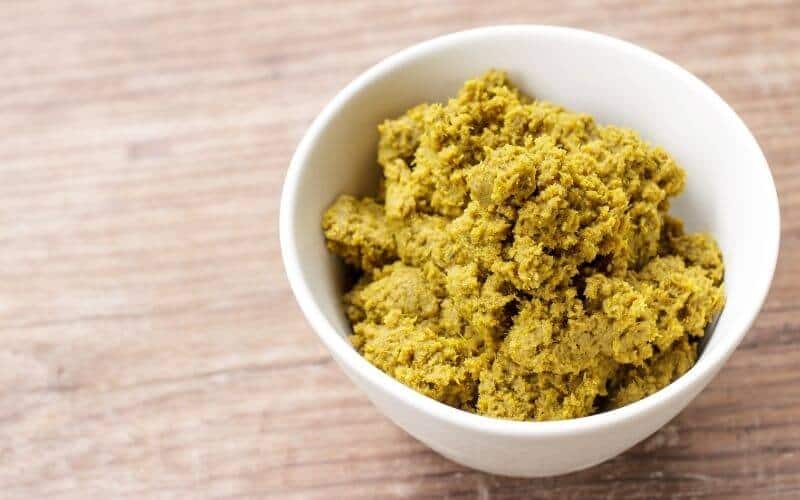 Thai green curry paste is quite similar to yellow curry paste; the apparent difference is that the other is green due to green chilis in the recipe.
With green curry paste, you will be able to create a sweet-scented meal that may also have basil, cilantro, and kaffir lime leaf combined.
Most green curries are a little less punchy compared to red curry paste, so it's a perfect yellow curry paste substitute.
5. Pad Thai sauce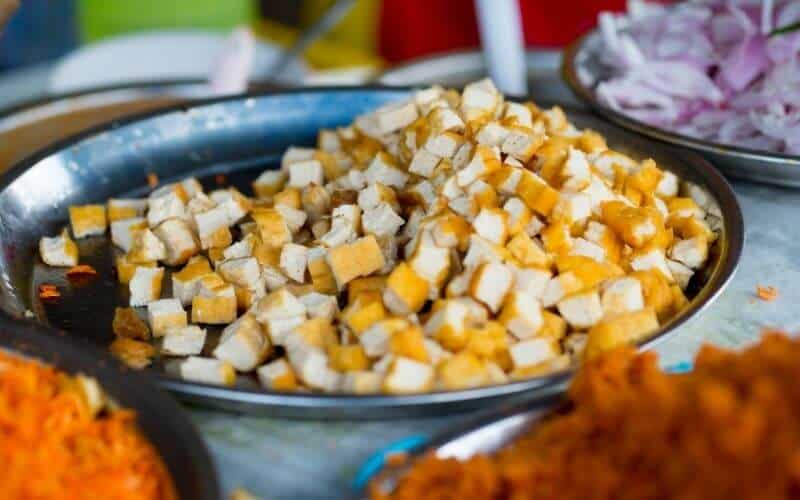 Originated from Thailand, pad Thai is a popular dish that offers a fantastic mixture of salty, sweet, and sour tastes in one bite.
Common ingredients include palm sugar, which will provide sweetness, tamarind paste provides sourness, and fish sauce gives you the salty taste.
Chili is usually a part of the mixtures in Pad Thai sauce, which is common with most Thai dishes. However, the chili in Pad Thai sauce is often less punchy than a red curry paste.
6. Laksa
Originated from the descendants of early Chinese migrants who settled in Indonesia, Penang, Singapore, and Malacca, Laksa is a noodle soup, which can serve as a suitable substitute for yellow curry paste.
The laksa paste used for making the soup is usually rich in aromatic Southeast Asian ingredients, such as lemongrass, turmeric root, galangal, and Kaffir lime – some of these ingredients are also found in yellow curry paste.
Pre-made laksa paste can easily be found in Asian markets; however, homemade laksa paste will always give you the best results. If you decide to make fresh laksa paste, I recommend you double the recipe.
Then, take half of the paste, freeze it in ice cube trays, and transfer them to a good, freezer-safe bag when frozen. When preserved that way, you can use them for up to 3 months.
7. Home Made Thai Yellow Curry Paste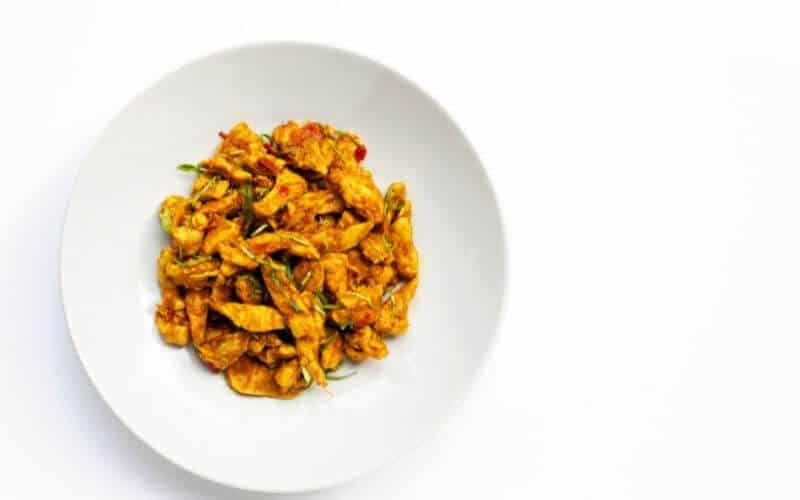 The closest and best substitute for yellow curry paste is to make your own at home. It only takes a few minutes to make your own homemade Thai yellow curry paste – and the ingredients are easy to find, apart from lemongrass (which can be replaced with lemon zest).
To prepare your own homemade yellow curry paste, place all ingredients in a food processor or blender using just 3 ounces of coconut milk. The ingredients include:
Yellow chilies
Lemongrass
Shallots
Chilies
Galangal
Coriander
Garlic
ground cumin
Cinnamon
Cumin seeds
Fish sauce
Turmeric
Shrimp paste
White pepper
Lime juice
Brown sugar
Add more coconut milk based on what you need to blend the ingredients into a smooth paste or sauce – and process well to achieve your paste.
Below is a more detailed step:
Authentic Thai Yellow Curry Paste
You can make this easy Thai yellow curry paste with most of the items in your pantry and with some ingredients such as lemongrass, shallots, and ginger.
Course: Pantry Sauce Cuisine Thai
Keywords: easy curry paste recipe, homemade curry paste, Thai yellow curry
Prep Time: 15 minutes
Total Time: 15 minutes
Servings: 8 servings
Calories: 30kcal
Ingredients
1 – 2 yellow chilies, sliced
1/2 to 1 stalk lemongrass, minced
2 shallots, sliced
4 cloves garlic
1 thumb-size piece of galangal, sliced
1 tbsp ground coriander
1/2 tbsp cumin seeds
1 tbsp ground cumin
1/4 tbsp ground cinnamon
1/2 tbsp shrimp paste
2 tbsps fish sauce
3/4 teaspoon turmeric
2 tbsps brown sugar
1 large pinch of white pepper
1 tbsp lime juice
3 to 5 ounces coconut milk, divided
1 tbsp tomato puree
Instructions
Gather all the ingredients listed above
Soften the chilies inside a bowl with hot water for about 3 minutes.
Trim off the root end and tough outer leaves of the lemongrass stalk
Use the white part only with a little of the green part, then cut it in half
Put all the ingredients in a food processor or blender
Purée the mixture until a smooth paste is achieved
You can now use the paste in your favorite curry dish or store it in an airtight container in your refrigerator for about 5 days. You can also freeze the paste in cubes and store it in a plastic bag for up to 2 months
Frequently Asked Questions
What can you use instead of yellow curry paste?
If you find yourself suddenly without any yellow curry paste on hand, the best substitute for yellow curry paste is generally to make your own homemade curry paste. Just follow the instructions above, and you will be done in 15 minutes or less.
What is the difference between red and yellow curry paste?
The 3 Thai curry pastes (yellow, red, and green) contain almost the same ingredients. It's the color, flavor, and level of spice that differentiates them. Red curry paste is usually the hottest of the 3, while green is the mildest, and yellow falls somewhere in between.
Green curry paste is often the brightest colored curry paste and the popularly used curry in Thai dishes.
Can I use yellow curry powder instead of paste?
Yes, you can use yellow curry powder instead of paste. Use 1 teaspoon curry powder to replace 1 tablespoon curry paste.
What can I use if I don't have curry paste?
You can use curry powder if you don't have all of the ingredients needed to make your own curry paste.
Is yellow curry the same as Panang?
Yellow curry is made with turmeric and dried curry, which gives it the yellow color and a rich, savory flavor. On the other hand, Panang curry has a nutty, mellow taste with the texture of roasted peanuts ground into the curry paste.
What is Thai yellow curry called?
It is called Kaeng lueang (Thai: แกงเหลือง), which means "yellow curry" in Thai. In southern Thailand, the dish is known as Kaeng som or "sour curry."
What does yellow curry paste taste like?
Yellow curry paste has a mild, relatively sweet taste with a bit of spice. Apart from turmeric, curry powder is pounded with cumin, coriander seeds, lemongrass, ginger or galangal, yellow or red chili, and garlic.
What spice gives yellow curry its color?
Turmeric is basically what gives yellow curry its color. It's what gives the curry that golden color that makes the dish so inviting.
Related Posts: