This article may contain affiliate links and if you make a purchase after clicking on a link, we may earn a small commission at no additional cost to you.
There isn't much of an option when it comes to choosing suitable herbes de provence substitutes.
The best thing you can do whenever you're out of stuck is to make one for yourself, and I will show you how to do that.
Funnily enough, that is the closest you can get to the ready-made herbes de provence version.
Better still, you can try the Italian seasoning as the ONLY difference between them and herbes de provence is the omitted lavender flowers, which is not necessarily the case. Another alternative that might answer all of your herbes de provence prayers is the Italian sausage seasoning.
We are going to discuss all of that here, so stay tuned!
Best Herbes De Provence Substitutes
Again, there isn't an herb blend that's a direct substitute for herbes de provence unless you make one.
But if you are in the middle of flavoring your grilled foods, and you just discovered your herbes de provence jar is empty, use these alternatives ASAP.
1. Italian Seasoning + Lavender Flowers (Optional)
The only thing that makes Herbes De Provence flavor distinctive from Italian seasoning is lavender flowers. 
Both blends look and taste almost identical, which has being causing riots in the classic blend community.
Some homeowners erroneously use them interchangeably.
I'm not saying it's a taboo or something.
You won't even notice the difference in flavor.
But don't you think it is ideal to know which is which, even at that?
That is why we have decided to clear the air to bring both blends into a debate.
However, that's not happening on this page. Check out the Herbes De Provence Vs Italian Seasoning blog.
So back to business!
Questionably, since lavender flowers are the only thing missing from getting yet another version of Herbes De Provence, don't you think it is wise to include it in the mix?
I think it is.
So let's say you've gotten your nice little jar of Italian seasoning from the grocery store. Purchasing dried lavender flowers along for a blend in, you've converted a popular Italian blend into a France mix –Italian seasoning de Provence.
How creative!
To do this, you need to add two tablespoons of dried lavender flowers to the initial Italian seasoning.
If you're replacing Herbes De Provence with the normal Italian seasoning, nevertheless, you'll be missing out on the unique lavender flower flavor.
More importantly, if you want to come even closer to Herbes De Provence flavor notes, make your Italian seasoning at home and omit the sage and basil addition.
That could sound too stressful. But it is only through toying with these mixes you can get find the missing puzzle.
Although, with or without the basil and sage, the blend still works well in dishes that call for Herbes de Provence.
But if you're still interesting, I'm not going to hold you back. This is what you'll need:
Two tablespoons dried basil
Two tablespoons dried cilantro
1-2 tablespoons dried rosemary
Two tablespoons dried marjoram
Two tablespoons dried savory
Two tablespoons dried oregano
1-2 tablespoons dried thyme
1-2 tablespoons red pepper flakes
Most people love to add 2 tsp dried Italian parsley, 1 tsp garlic powder, 1 tsp onion powder, or 1 tsp kosher salt for a different feel.
But, it is totally up to you, as they are all optional.
Next is to blend all of the mixes in a food processor until desired consistency. Then pour in a jar or any nice airtight container.
2. Italian Sausage Seasoning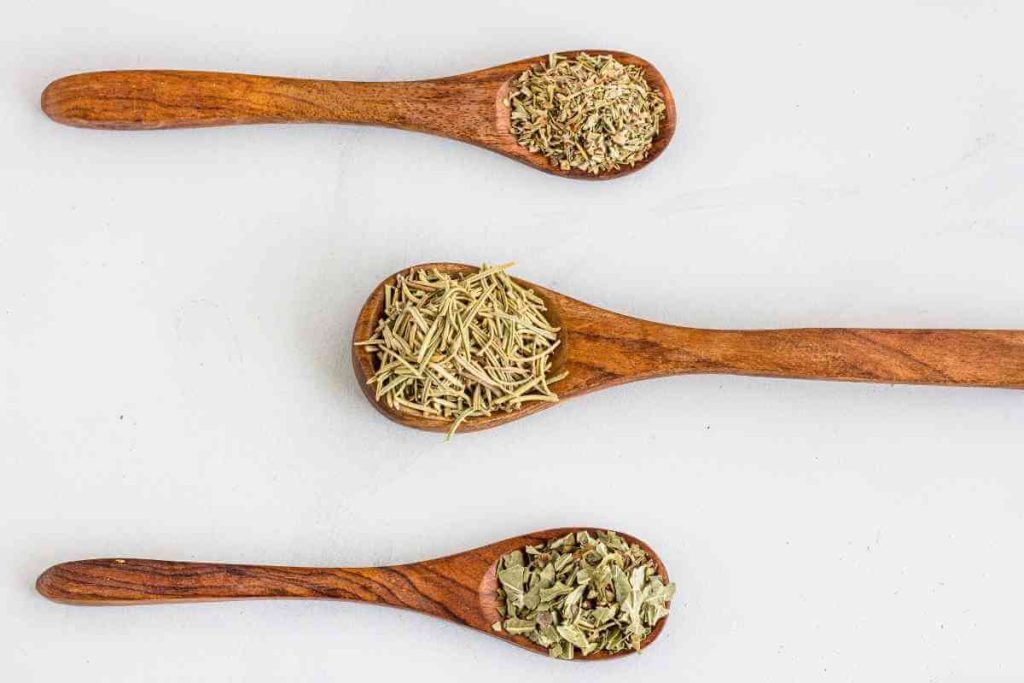 Another herbes de provence substitute you can count on is the Italian sausage seasoning.
It contains parsley, black pepper, fennel seed, paprika, red pepper flakes, salt, onion, garlic, and shockingly the Italian seasoning. 
You can use it in poultry dishes like this chicken under a brick, toasted brie bread, veggie-loaded macaroni and cheese, and more.
If you break down the basic ingredients of Italian sausage seasoning, you will see why it could substitute the herbes de provence.
And what gives it that distinct flavor is the Fennel seeds and Italian seasoning.
You may notice crushed red peppers as ingredients, which is not ideal for Herbes de Provence dishes.
Also, it contains garlic, meaning you would have to adjust the garlic content in your recipe, so it doesn't overwhelm all the other flavors.
3. Homemade Herbes De Provence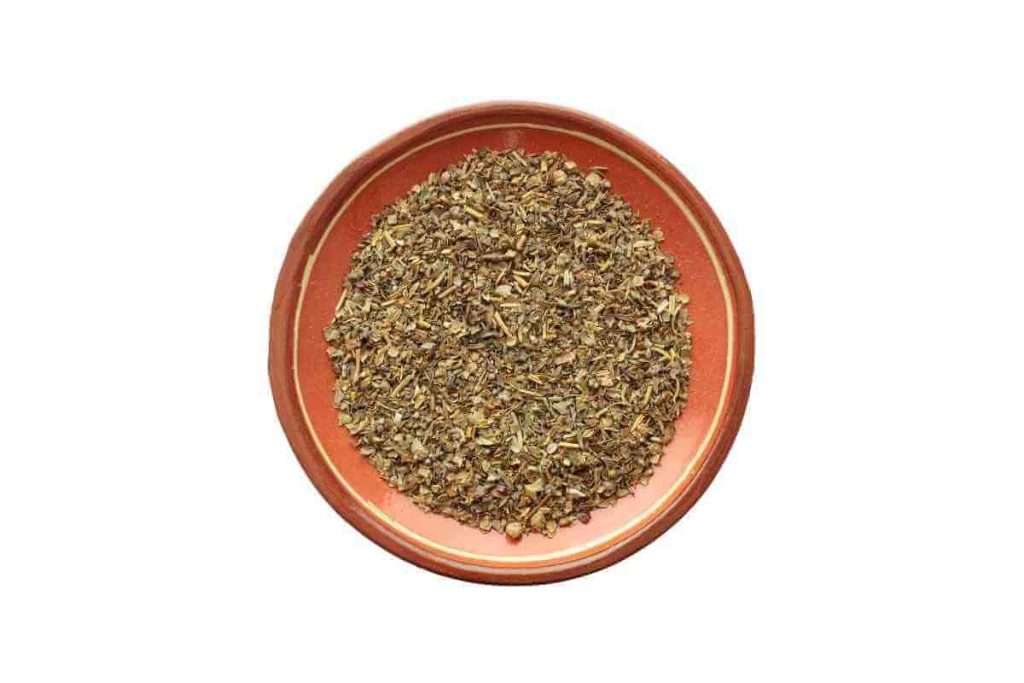 Lastly, making your Herbes De Provence – the demon most people are terrified of.
Imagine you can't find a single product, and you end up scavenging for not one but many of its basic ingredients to make the homemade version.
Isn't that X2 the stress? Maybe it is.
But don't let the long name trick you into thinking that making your own Herbes De Provence will be daunting.
I can assure you it will be one of the simplest creations you've ever made.
All you need is a couple of aromatic dried spices with the right measurements. Then blend, and that's that.
Easy-peasy!
The List Ingredients and Measurements
Two tablespoons dried rosemary
Two tablespoons dried savory
One tablespoon fennel seed
Two tablespoons dried thyme
Two tablespoons dried marjoram
Two tablespoons dried basil
Two tablespoons dried lavender flowers
Two tablespoons dried Italian parsley
One tablespoon dried tarragon
One tablespoon dried oregano
One teaspoon bay powder
Instead of blending all the spice on the spot, you will have to grind the rosemary and fennel seed separately in a spice grinder.
Transfer it to a mixing bowl before stirring the marjoram, oregano, thyme, tarragon, savory, basil, lavender, parsley, and bay powder together with the rosemary and fennel.
Pour and store in an airtight container.
And just like that, you have made your own aromatic Herbes De Provence.
Even you won't tell the difference between the ready-made and the homemade.
Conclusion
Wheeeeee!
At least you have three options to choose from. So SURELY, if you cannot get the Italian seasoning, the Italian sausage seasoning will be right at the corner.
If worst comes to worst, herbes de provence homemade it is!
Rush to the grocery store, get all the required dried spice, and follow the precise measurements and instructions.
Again, the only difficult thing there is the blending process.
I mean, who finds blending stuff difficult?