This article may contain affiliate links and if you make a purchase after clicking on a link, we may earn a small commission at no additional cost to you.
Sambar powder is one of the most important lightly fiery seasonings commonly used for authentic Indian cuisine. It contains an array of complex flavors which give dishes an authentic taste.
Sambar powder is not a commonly known spice blend in the west, so you may have trouble finding it; here are some Sambar powder substitutes you can use instead.
What Is Sambar Powder and What Is It Made Of?
Sambar powder is a South Indian spices powder that is usually flavorful and style coarse-textured.
Sambar powder is made by grinding different types of basic Indian spices such as coriander seeds, mustard seeds, dry red chilies, cumin seeds, fenugreek seeds, black peppercorns, dry coconut, cinnamon, etc. with chana dal.
Sambar Powder Substitutes
1. Rasam Powder
Rasam has a similar aromatic and spicy flavor profile to SambarSambar. Both spice blends, however, vary based on the region as well as the cook's preferences.
Sambar and Rasam powder both originated from the state of Tamil Nadu but are popular across India. The dishes vary dramatically or are closely similar depending on who makes them. Rasam powder blends usually contain similar spices used in Sambar powder.
Choose a Rasam powder blend that contains similar ingredients in your preferred Sambar powder blend. You can use a 1:1 ratio when substituting Rasam powder for Sambar powder.
2. Chaat Masala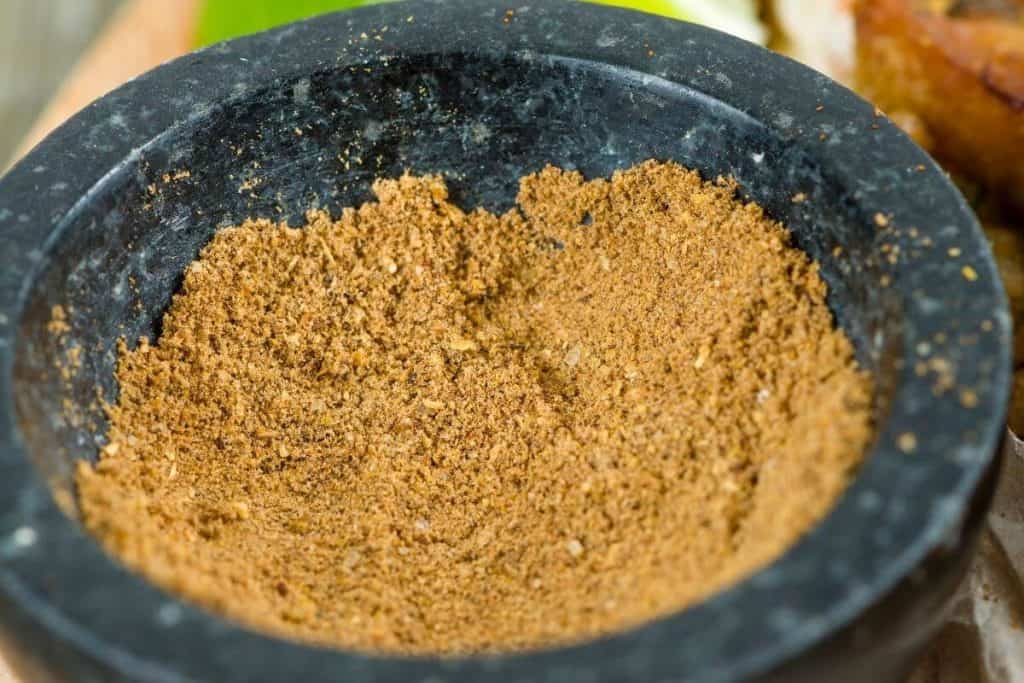 Tomato or tamarind is the source of the prevailing acidity flavor note in Rasam. Chaat masala, however, contains its own souring agents, which enhances the acidity in SambarSambar, but you can use it to replace the tomato or tamarind entirely.
Chaat masala is a spice blend used to add flavor to chaat, a fried street food consisting of fried finger foods like potatoes and fried pieces of dough. Chaat masala can be used as a 1:1 substitute for Sambar powder.
3. Madras Curry Powder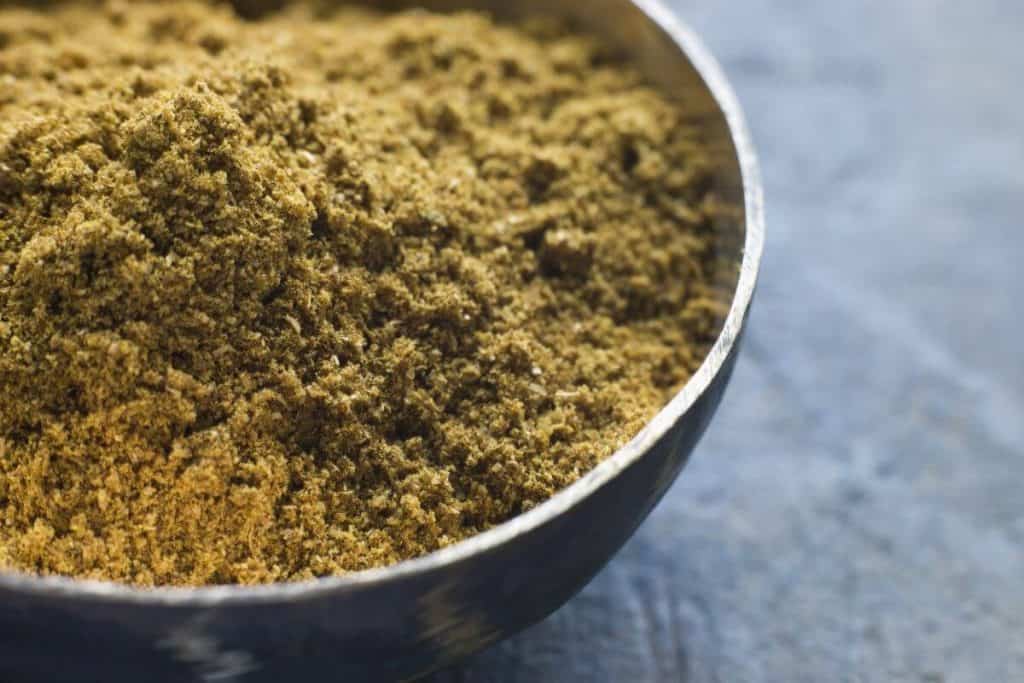 This is a British spice blend meant to mimic the flavor profiles of other popular Indian spice blends.
Madras curry powder has a number of similar ingredients you would find in a Sambar powder blend; this means it can be used to achieve a similar taste profile.
4. Vindaloo Curry Powder
Just as madras curry powder is a British spice blend, vindaloo was created in the attempt to make a Portuguese dish using Indian ingredients; it is the hottest curry powder blend and has several spices in common with Sambar powder and thus provides a similar flavor profile.
How To Make Homemade Sambar Powder
The best substitute option for hard-to-find spice blends like Sambar powder is homemade versions. This allows you to tailor the blend according to your own preferences, and you get a more robust taste as you are more likely to use fresh whole spices that you grind yourself.
Keep in mind that it may be difficult to find all the different ingredients in a Sambar powder blend in a typical grocery store. You may need to visit Asian shops or Indian markets, or you can seek effective alternatives for the hardest-to-find ingredients.
Here's a simple recipe you can follow to make homemade Sambar powder
Ingredients:
16 Kashmiri chilies destemmed
1/2 cup coriander seeds
1/3 cup curry leaves
2 tablespoons cumin seeds
2 tablespoons chana dal
1 tablespoon urad dal
1 tablespoon black peppercorns
3/4 tablespoon fenugreek seeds
1/2 tablespoon hing
1/2 tablespoon mustard seeds
1/2 tablespoon turmeric powder
Directions:
Add the coriander and cumin seeds in a pan over medium-low heat to toast, stir often, until the seeds reach a light brown color or become fragrant (this may take 1 to 2 minutes). Take the seeds out of the heat and transfer to a large bowl, and place them to the side.
In the same pan, place the Kashmiri chilies over medium-low heat. Stir occasionally until the Kashmiri is roasted and starts to lightly brown; this takes approximately 1 to 2 minutes. Take the chilies off the heat and place them in the same bowl as the coriander and cumin seeds.
Toast the fenugreek seeds, black peppercorns, chana dal, urad dal, curry leaves ( which you should ensure are crisp before adding them to the spice bowl), mustard seeds, and hing.
Toast each spice individually for a few minutes till they are lightly browned before transferring them to the large bowl with the other spices.
Add the turmeric to the spice bowl and stir lightly before allowing the spices to cool to room temperature before you grind them up.
With a mortar and pestle or spice grinder, grind the spices into a fine powder. This may take a while, and when you have a fine powder, transfer the spice blend into a bowl.
You can use your homemade Sambar powder immediately or transfer it into an airtight container and seal it tightly for future use.
Frequently Asked Questions
What is SambarSambar in Indian food?
Sambar is a lentil and vegetable stew in South Indian that is prepared with pigeon pea lentils, tamarind and a special spice blend known as sambar powder. It is popular and loved by many and is a staple food in South Indian homes.
What is the difference between rasam powder and sambar powder?
The regular rasam powder in Tamil Nadu is usually made up of pepper, coriander seeds, jeera with chana dal and tur dal. Sambar powder also contains these ingredients but is usually further enhanced with fenugreek seeds but doesn't contain jeera.
What is a substitute for sambar masala?
You can use equal parts cumin and coriander, and a little touch of turmeric powder and cayenne pepper powder or red chili. This is a close substitute for sambar masala.
Is curry powder same as sambar powder?
Yes, Sambar powder is essentially the same as curry powder in South Indian cooking.