This article may contain affiliate links and if you make a purchase after clicking on a link, we may earn a small commission at no additional cost to you.
If you still cook with vegetable oils, you must be REALLY acquainted with macadamia oil.
They're one of the best out there — probably everyone's favorite in salad dressing, roasting or deep-frying, or for a fantastic base for a full-flavored marinade.
And we understand it's a matter of personal preference. But sometimes, the situation may bend us to choose otherwise.
If this is one of those moments, we've already compiled a ready-to-use list of macadamia oil substitutes – not the regular but healthier alternatives that boost a wonderfully smooth buttery flavor, such as grapeseed oil, coconut oil, avocado oil, etc.
I'm positive you're going to love these oils even if they're inconveniently replacing your beloved macadamia.
Let's dissect why!
What is Macadamia oil?
Macadamia is a healthful, non-volatile oil extracted from pressed macadamia nuts — a native Australian plant.
This vegetable oil is a clear, light-yellow liquid that has a smooth, deliciously nutty taste.
Its low polyunsaturated fat content makes it very stable, so don't bother putting them in the refrigerator.
And one of the most essential characteristics of the macadamia oil is its high smoke point –approximately 210C and 234C degrees — making it an excellent choice for salad dressings, roasting, and a substitute for butter when baking.
Top 8 Healthier Macadamia Oil Substitutes
Since macadamia oil has a high smoke point, it is best if we use a similar replacement for it.
So below we discovered 8 vegetable oil that matches macadamia profile.
1. Avocado Oil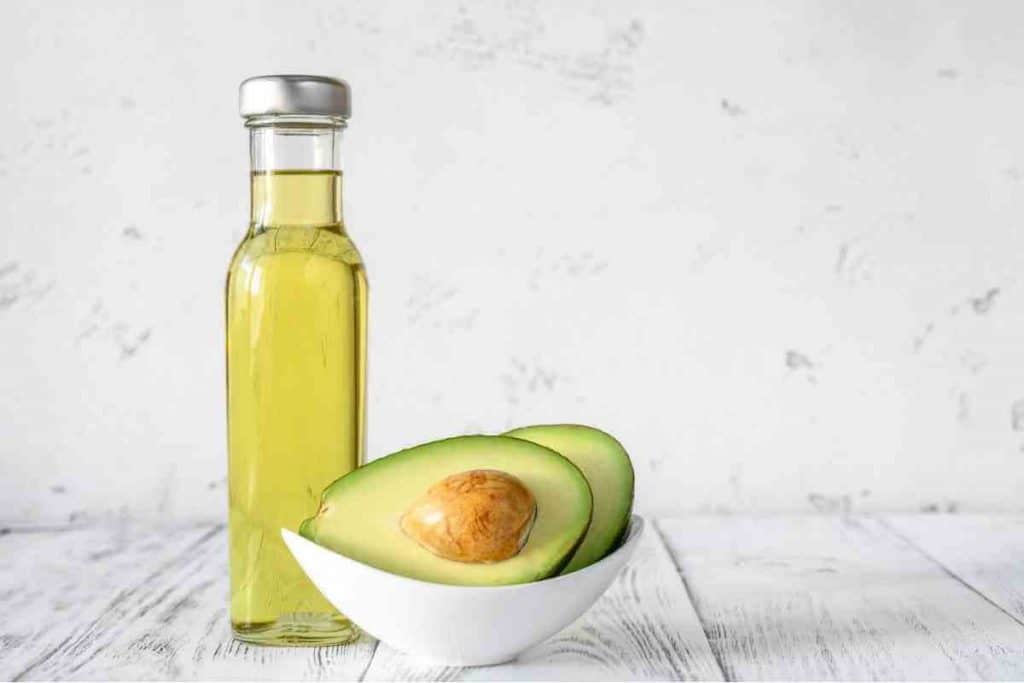 If you've eaten Avocado, you'd agree with me they are the best thing since sliced bread.
Well, Avocado oil is no exception.
It is the natural oil pressed from the pulp of an avocado. And just like its fruit, it's rich in healthy fats.
Aside from that, Avocado oil knocks out the macadamia nut oil in the "high-smoke-point" match —surpassing them with extra 110 degrees — along with its subtle, pleasant flavor.
They are highly nutritious and work incredibly well for just about any recipe that calls for your unavailable macadamia oil — be it cold to salads or smoothies or for cooking, grilling, and baking.
Avocado oil is versatile and easy to use.
Besides offering a great fats profile ideal for imparting a smooth, moisturized, and nourishing flavor, they reduce cholesterol and improves heart health, calm symptoms of arthritis, improves skin, and enhance wound healing.
If we keep going down this route, we won't go home today because avocado oil offers a wealth of health benefits.
And lastly, when using as a Macadamia oil substitute, use a 1:1 ratio.
Read Also: Can You Refrigerate Avocados?
---
2. Grapeseed Oil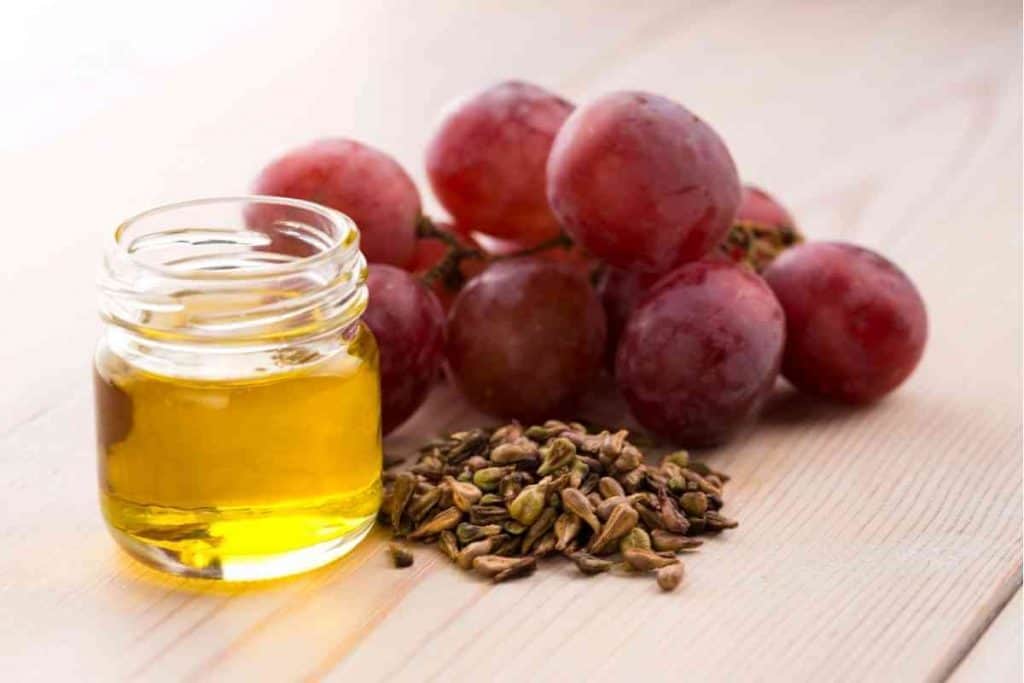 Grapeseed oil comes from — you guessed it — grape seeds.
They are a byproduct of winemaking. After the wine is made by pressing grapes, the grape seeds are left behind.
The oil is then extracted from these leftover grape seeds.
Grapeseed oil will obligingly take the place of macadamia in almost any recipe without even altering the flavor much.
Actually, grapeseed oil is surprisingly neutral in taste. They taste somewhat virgin olive oil.
However, they are packed with omega-6 fatty acids and vital nutrients that help improve inflammation and insulin resistance, reduce blood clots and risk of heart disease, assist in skin moisturizing, and whatnot.
So imagine eating Grapeseed oil in moderation?
Also, they offer a high smoke point making it an excellent everyday oil from high-heat sautéing, stir-frying, baking, sauces, to soups.
Whenever I'm running out, I will unhesitatingly make grapeseed Oil my Macadamia oil substitute.
It is readily available at most grocery stores for a pocket of change, making it easy to stock your pantry with.
Use Grapeseed oil as a 1:1 replacement ratio for Macadamia.
After each use, ensure you stored them in a refrigerator or in a cool, dark place.
---
3. Coconut Oil
Coconut oil is an edible white solid fat obtained from the wick, meat, and milk of coconut palm fruit.
This oil is incredibly a popular Macadamia oil substitute for good reasons.
They offer many health benefits like relieving skin irritation and eczema, increase your metabolism, protect your skin from UV Ray, and also serve as a powerful weapon against bacteria — just to mention a few.
In addition, it has a delicate taste, is widely available, and is an extremely versatile oil with several uses you may not be aware of.
Sadly, coconut oil has a lower smoke point of about 350 degrees compared to the macadamia nut.
But the refined coconut oil is much higher in smoke point up to 400 degrees, making it a fantastic option for sautéing and other high-heat cooking methods like frying.
Warning ⚠ if it's not the refined version, please DO NOT use it when frying.
However, when subbing in coconut oil, go with a 1:1 ratio.
Read Also: Best Substitutes For Tarragon Vinegar
---
4. Olive Oil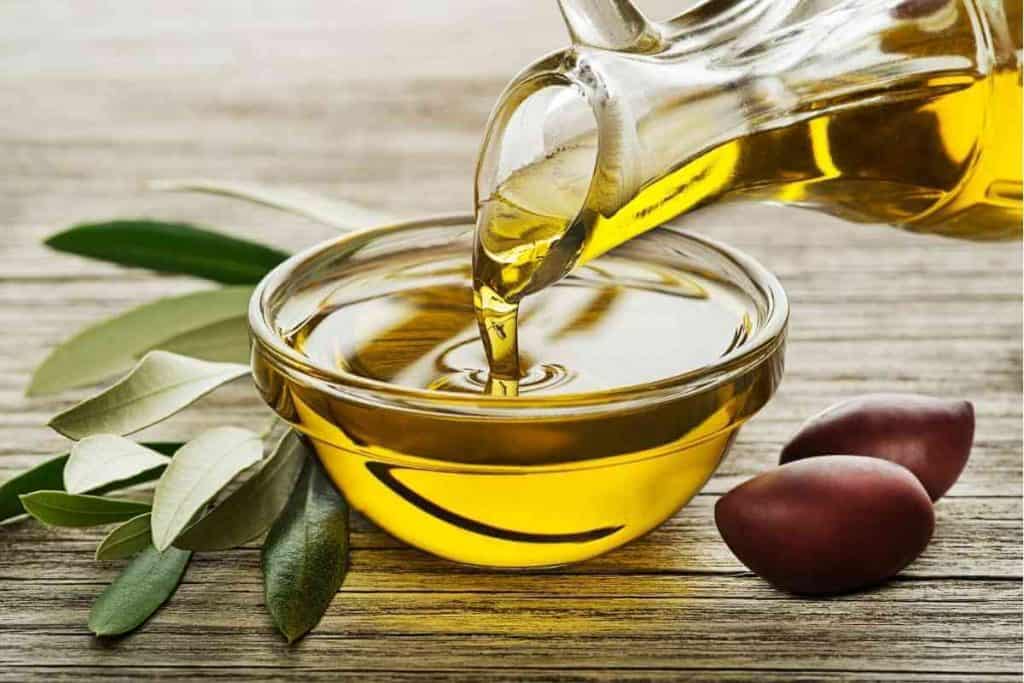 Another readily available oil that makes an excellent substitution for macadamia oil is "Olive" oil.
They are liquid fat collected from olives — a traditional tree crop of the Mediterranean Basin — by pressing whole olives and extracting the oil.
They weigh a smoke point of about 375-405 degrees, which is relatively low and should be avoided in frying.
However, they are worth the penny when used in cooking and as salad oil.
Healthily, olive oil, especially the " Extra-virgin" type, can reduce inflammation, prevent strokes, protect against heart disease, and whatnot.
Except for fries, olive oil will work just fine in almost any recipe that calls for macadamia nut oil. Simply use a 1:1 ratio.
---
5. Walnut Oil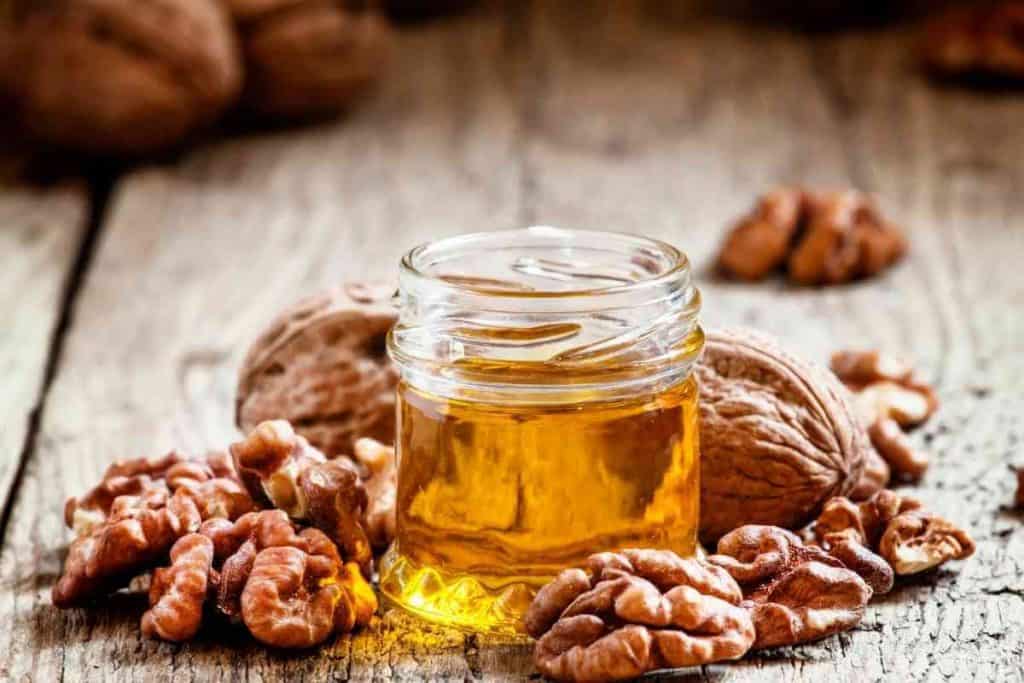 Do you know Walnuts are the world's healthiest nut?
Of course, they are!
They pack more nutrients and antioxidants than all other nut varieties.
And considering the oil and extract is from walnuts, Juglans Regia, you are getting almost the same doses of nutrients and antioxidants.
This nutrient-rich oil helps detox the kidneys, nourish the blood, promote gastrointestinal health, and many more.
This heart-healthy fat for regular consumption is available at most grocery stores and can be used in place of most other cooking oils in recipes, sauces, and dressings.
Although some chefs avoid using walnut oil for pan-frying because, at a high temperature, they lose some nutrients and develop a bitter taste.
Not as though they aren't suitable for pan-frying, but try to avoid cooking it at a peak temperature.
Walnut oil is primarily preferred in cold dishes such as salad dressings — savoring its deep nutty flavor on salads or drizzled on veggies after cooking.
But I must warn you; it is easily prone to oxidation and spoilage.
Hence, you may want to consume it all within 3-6 months of purchase.
Read Also: Substitutes for Orange Juice
---
6. Palm Oil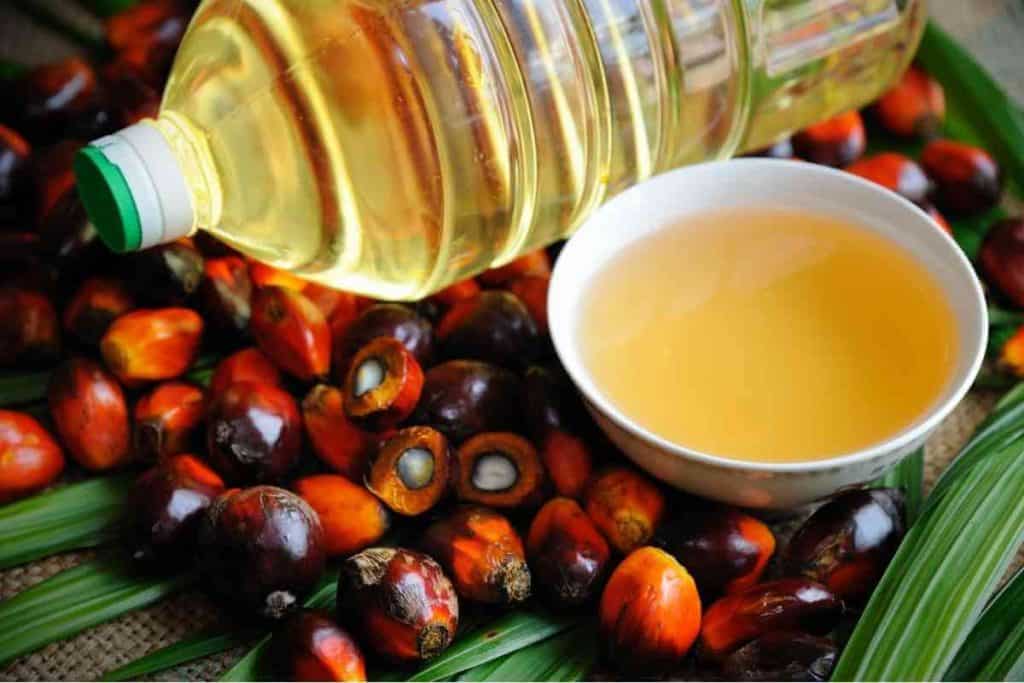 It may sound funny, but Oil Palm is another incredible Macadamia oil substitute.
They are edible vegetable oil derived from the mesocarp of the fruit of the oil palms.
The world got hooked on palm oil ever since they discovered it's blessed with many attributes for preventing vitamin A deficiency, brain disease, cancer, aging, and treating malaria, as well as high blood pressure.
The nutritional profile is almost identical to other cooking oils on this list.
Although the taste is considered savory and earthy, some people describe its flavor as being similar to carrot or pumpkin.
Palm Oil color differs from light yellow to orange-red in — depending on the number of carotenoids present.
And because it has a smooth and creamy texture, it is versatile in everything from appetizers to desserts.
---
7. Flaxseed Oil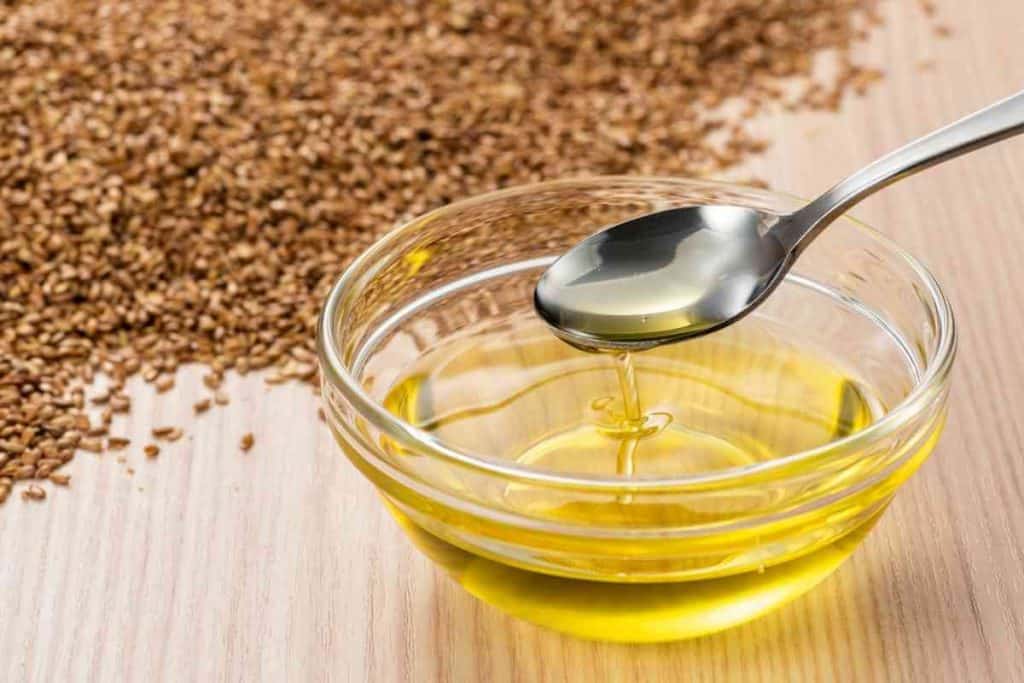 Flaxseed oil, prominently known as Linseed oil, is a colorless to yellowish oil obtained by pressing (or sometimes through solvent extraction) from the dried, ripened seeds of the flax plant.
Once you try this delicious oil in baking or salad, you'll think differently.
It adds this nutty taste, boosts texture, and adds extra nutrients known for lowering inflammation, preventing heart disease, promote digestive health, and reduces cancer risk.
I've seen a lot of People drinking a spoonful straight or preferably incorporate it into dips and sauces.
But if there's one thing I'm sure of, it's the fact that it will replace your macadamia nut oil all day, every day.
Unfortunately, it is restricted as a finishing oil for dips, dressings, smoothies, and not for cooking because of its low smoke point (225ºF).
---
8. Fish Oil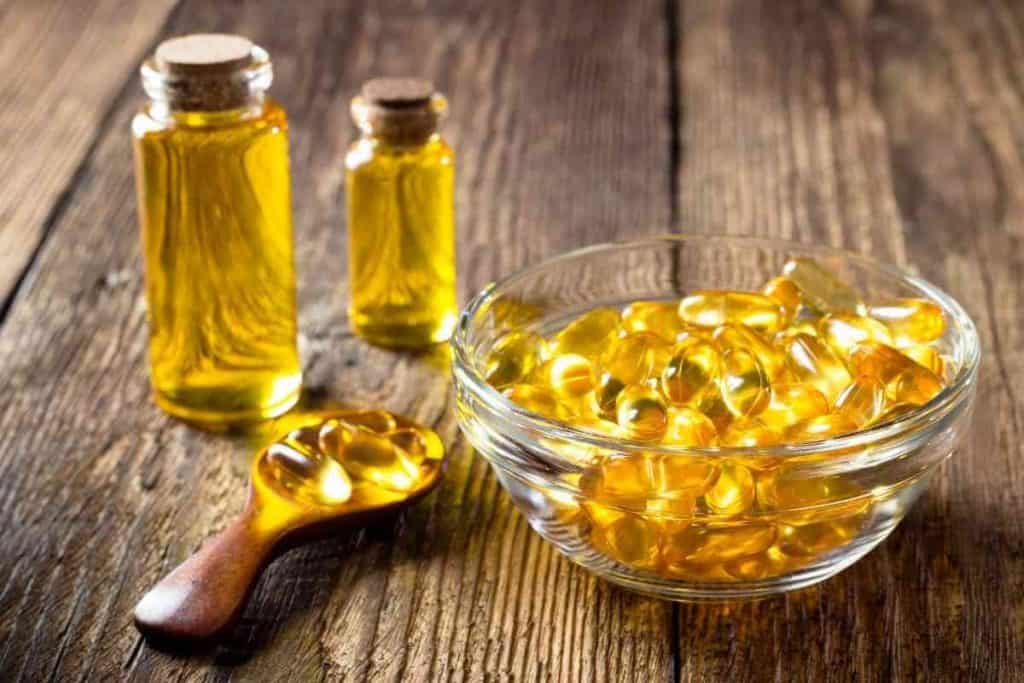 When you want to sauté, fry, broil or even marinate a fish, it's a good thing you're out of macadamia because Fish oil does the job better.
Fish oil is oil derived from the tissues of oily fish like herring, tuna, anchovies, and mackerel.
High in omega-3 fatty acids, docosahexaenoic acid, and other necessities, fish oil has been proven to reduce the risk of Alzheimer's disease, promote arterial health, improve mood, eye health, reduce inflammation, and lessen the chance of sudden cardiac death in people with heart disease.
Yes, you can happily reap all the compelling benefits of your inflammation-fighting fish oil, but not without the fishy taste.
Adding fish oil to food is challenging because it has a characteristic taste and smell that is noticeable.
Fish oil also contains polyunsaturated fatty acids that can accelerate spoilage once exposed to air, light, or heat.
Read Also: White Balsamic Vinegar Substitutes
---
Conclusion
You have seen for yourself, why not use these Macadamia oil substitutes?
No doubt, Macadamia nut oil remains an excellent vegetable oil, but sometimes it can be daunting to fine.
Besides, they are pricey because they are regarded as a 'dessert nut.' And it takes seven years for a macadamia nut tree to produce a crop.
Therefore, the demand remains high, and prices stay up.
However, our top picks give you healthier and more pocket-friendly options for the same usage.
Quick advice: When you select any of the substitutes, it is imperative to be clear on how you will use them and their smoke points.
Avocado oil and grapeseed oil are the best all-around macadamia nut oil replacements, but as long as you're not frying, olive oil or coconut oil are excellent alternatives.
Cheers!